Chicago Cutlery® Armitage™ 3-Piece Knife Set: A Comprehensive Review
The Chicago Cutlery® Armitage™ 3-Piece Knife Set (Item #: 1132353) is a premium collection of essential kitchen tools that brings both style and functionality to the cooking experience. This set comprises a 7.75 in. Chef's Knife, a 4.25 in. Serrated Utility Knife, and a 3.5 in. Paring Knife, each meticulously designed for optimal performance. With beautifully contoured, dual-rivet integrated-steel handles and high-quality stainless steel blades, these knives offer a perfect blend of precision, comfort, and aesthetics. In this publication, we'll delve into the features, design, performance, and purchasing options for the Armitage 3-Piece Knife Set.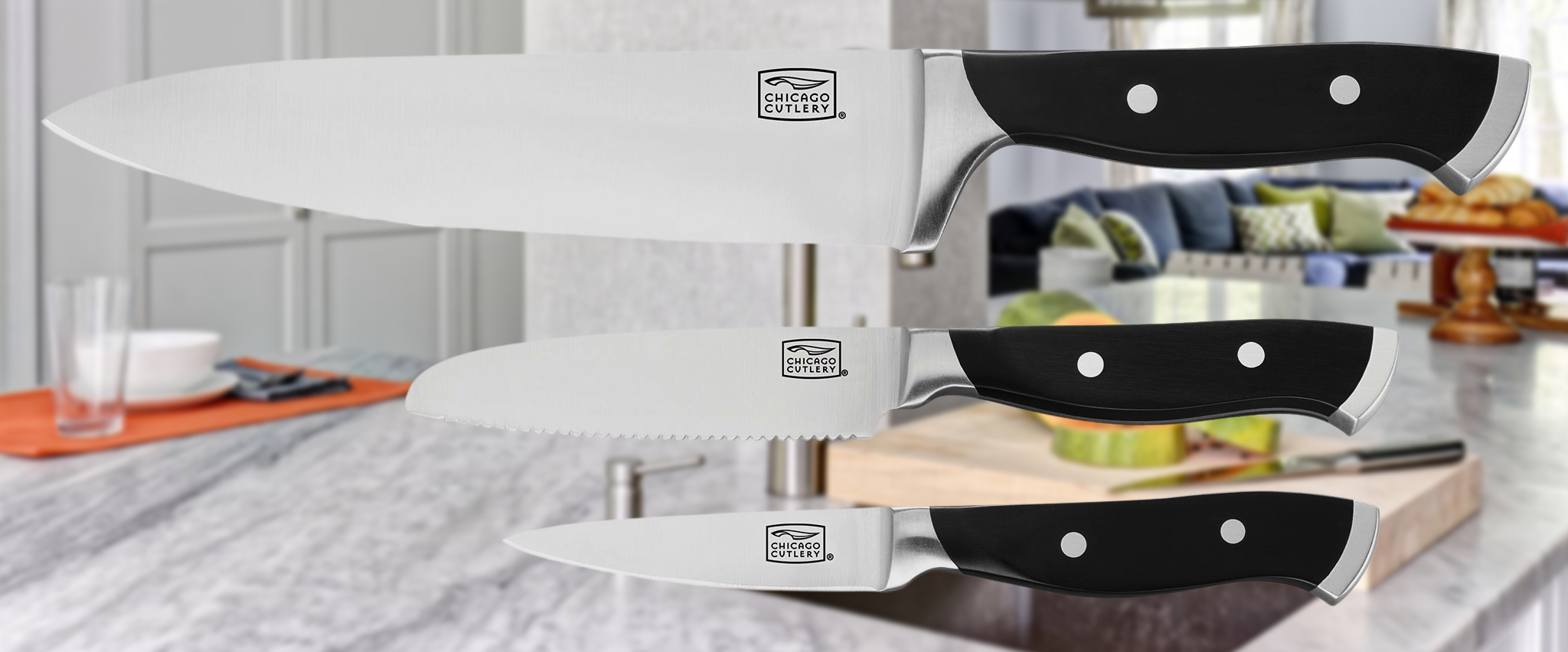 Design and Features
The Chicago Cutlery® Armitage™ 3-Piece Knife Set stands out with its sleek design and exceptional build quality. The following features contribute to its appeal:
Contoured Dual-Rivet Integrated-Steel Handle
The integrated-steel handle, adorned with dual rivets, offers a comfortable grip and ensures control during cutting tasks. Its ergonomic design fits naturally in the hand and enhances the overall aesthetics of the knives.
High-Quality Stainless Steel Blades
The blades are crafted from high-quality stainless steel, providing strength and resistance to stains, rust, and pitting. This material ensures a long-lasting cutting edge that retains sharpness over time.
Forged Design
The knives' forged design contributes to increased weight and balance, facilitating precise cutting and improving the handling experience.
Full Metal Tang
With a full metal tang extending from the blade through the handle, these knives gain additional strength, balance, and control, making them suitable for demanding kitchen tasks.
Maintenance and Warranty
Proper care is crucial for maintaining the knives in top condition. Hand washing and immediate drying are recommended, and the full lifetime warranty attests to the manufacturer's confidence in the product's quality and durability.
Performance
We recently acquired the Armitage 3-Piece Chicago Cutlery Set and have been delighted with its performance. The 7.75 in. chef's knife, in particular, impressed us with its sharpness. It effortlessly sliced through various ingredients and broke down whole chickens in our tests, remaining as sharp as when we first started using the knife. This experience with the chef's knife highlights its quality and compares favorably to more expensive alternatives.
The 4.25 in. serrated utility knife stood out for easily cutting through vegetables. Its serrated edge and balanced design made cutting and chopping an effortless task. Meanwhile, the 3.5 in. paring knife became our go-to tool for peeling, as it effortlessly glided through potatoes, turning a potentially tedious task into a simple and satisfying experience. In the end, these knives not only added elegance to our kitchen but significantly made our culinary tasks easier.
Where to Purchase
The Armitage 3-Piece Chicago Cutlery Set can be found on the official Chicago Cutlery website at this link and on Amazon's website at this link. Whether you are a professional chef or a home cooking enthusiast, this set offers an excellent investment in both functionality and style.
In Conclusion
The Chicago Cutlery® Armitage™ 3-Piece Knife Set offers a sophisticated combination of design, durability, and performance. With its contoured handles, stainless steel blades, elegant design, and surprisingly low cost, this set makes for an invaluable addition to any kitchen. The affordability of these knives, paired with their high-quality construction and reliable performance, makes the decision to invest in this set a clear and compelling choice. Backed by a full lifetime warranty, this knife set competes in every way to the more expensive brands. As we continue to use these knives in our daily kitchen tasks, we anticipate further insights and there may be more to add to this product review in the future. Their proven performance so far leaves us confident in recommending this set to both professionals and home cooking enthusiasts looking for exceptional value in their culinary tools.■
---
About the Information
The information presented on this webpage was prepared in collaboration with advanced AI technology with the aim of providing a thorough understanding of the topic explored, and it was meticulously researched, verified, and published by ViewMoreInfo.com. The goal is to publish distraction-free information and insightful product reviews tailored to those working in the restaurant and culinary industry, and those who simply enjoy the art and science of cooking. More...
---
Questions or Comments?
Do you have any questions or comments about the information presented on this webpage? Send an email message or call span-p Mon-Sun from 9:00 a.m. to 5:00 p.m. EST.

ViewMoreInfo.com
41 Crossroads Plaza, #200
West Hartford, CT 06117
span-p
span-e
Are you an industry supplier or manufacturer? ViewMoreInfo.com continually strives to discover and share innovative and quality products with visitors to this website. Industry suppliers and manufacturers are invited to send products for an opportunity to be reviewed on this informational platform. A thorough and fair review is guaranteed, offering an opportunity to enhance the exposure and search visibility of products and brands. Submission of product reviews to major search engines targets restaurant and culinary professionals worldwide.